[FS][PC] Call of Duty 2
Added 17/6/2011

.: Call of Duty 2 :.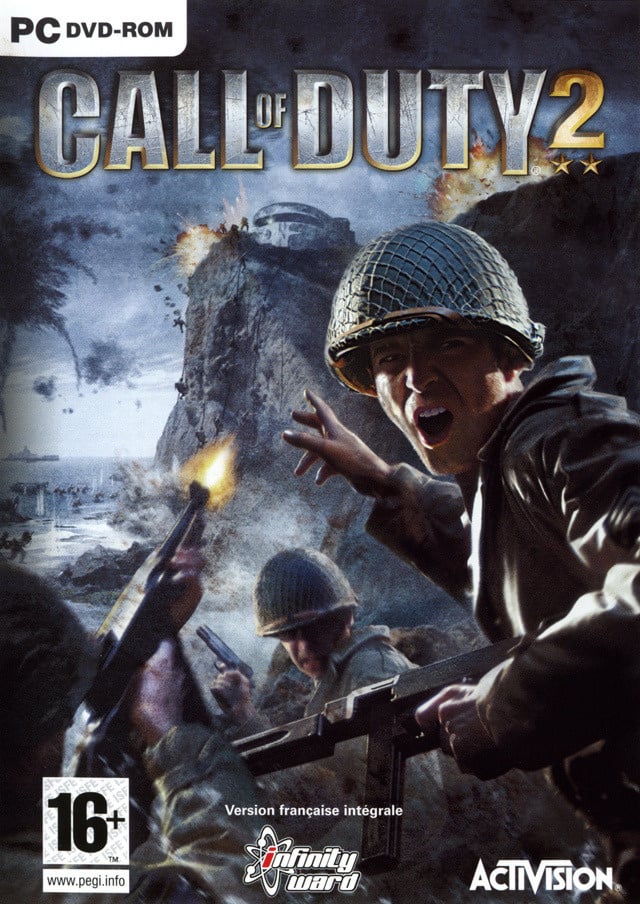 Éditeur : Activision
Développeur : Infinity Ward
Genre : Action / FPS
Note du test : 17/20/10
Date de Sortie en France : 4 novembre 2005 (25 octobre 2005 aux Etats-Unis)
Config minimum : PIV 1.4GHz, 256 Mo de RAM, carte 3D 64 Mo, Win 2000/XP
Config conseillée : PIV 2 GHz, 1Go RAM, carte 3D 128 Mo
Région : EURO
Format : ISO
Langue : Français
Hébergeur : Fileserve
Découpage : WinRar
Tailles des fichiers : 3 x 950Mo + 1 x 690Mo
Taille total : 3520Mo
- Monter l'image iso avec Daemon Tools
- Utiliser le keygen dans le dossier du même nom dans l'image
- Copier le crack dans le répertoire d'installation du jeu
- Jouer !
Mot de passe : hamachifrance.com
Category :
Jeux
|
Comments (0)
|
Write a comment
|
[UD.TO] World of Goo full
Added 19/5/2011
Release Date: Oct 17, 2008 | DeveloperPublisher: 2D Boy | PC | ISO | 160 MB
Language: English
Genre: General, Miscellaneous, Puzzle
World of Goo is a physics based puzzle / construction game. The millions of Goo Balls that live in the beautiful World of Goo don't know that they are in a game, or that they are extremely delicious. Each level in World of Goo requires you to move a certain number of goo balls across the level into a suction pipe. Initially, getting to the pipe is as simple as building a tower made of the goo balls to reach it. However, the puzzles become much more involved after the first few levels are solved. Building bridges and towers soon becomes second nature, and figuring out the best way to reach the end of each stage is a lot of fun. The levels are grouped into five different chapters, each corresponding to a season of the year, beginning with summer. The art style evolves with each chapter, giving each set of levels a unique visual identity.
You'll be seeing a lot of the basic type of goo. These little, blobby fellows wander around until you use them, preferring to crawl around goo structures. Each piece of goo can be attached to your structure one at a time, but cannot be removed once they have been added. The structures that you build have their own weight and other physical properties that can make things a bit more difficult at times. Being able to build stable structures quickly is the name of the game here. There will be many times that you can save yourself from death with a few quick additions to your contraption before it topples over the edge of a cliff or collapses on itself. The goo balls are also very charming and cute, due in large part to the excellent sound design. They will squeak, scream, and let out many a "Yippee" as you guide them through levels. While the normal goo is plentiful, they have more than few different friends. There are many unique types of goo out there including balloons, explosive goo, green goo that can be attached and detached at will, and even drool. Each of them have different physical properties that you'll have to take advantage of to reach the level exits.

1. Unpack release
2. Mount image or burn it
3. Install game
4. Play the game
Lien
Category :
Jeux
|
Comments (0)
|
Write a comment
|
[UD.TO] TreeCardGames MahJong Suite 2011 v8.3
Added 13/5/2011
MahJong Suite is a high-quality collection of MahJong solitaire games.
Each MahJong game has millions of possible shuffles to play, so the game remains fresh no matter how many times you play. Enjoy the detailed statistics of each game with graphs, 3D charts (pies and bars) and tables to estimate your skill level (by total, current session, series of wins and losses, players' games won, players' score, hi-scores…), statistics for All Games, Won games, Not Won games, Over Average, Under Average, Not Played… For MahJong lovers, MahJong Suite is a guaranteed pleasure. Each of the games is fun and exciting and will keep you entertained for hours. If you like MahJong games, then you'll want to add MahJong Suite to your collection!
Features:
* More than 140 different layouts!
* More than 130 different layouts!
* 43 beautiful tile sets!43 beautiful tile sets!
* 45 beautiful tile sets!
* Dozens of beautiful backgrounds!
* Lots of advanced features, options and statistics!
Lien
Category :
Jeux
|
Comments (0)
|
Write a comment
|
[UD.TO] HdO Adventure Alice in Wonderland the Incredible Adventure Extended Version v2.045
Added 4/5/2011
Hidden Object Game | 05/03/2011 | English | PC | Cracked | 93 MB


Alice is bored sitting next to her sister who is reading a book without pictures … While she observes thoughtfully around her, she sees a rabbit in a frock coat, running and looking at his watch! Intrigued, she follows the rabbit into its rabbit-hole and finds herself thrown into a wonderful world, strange and without logic, populated by whimsical characters.
Help her go through this strange world and return home in this fun Hidden Object game!
Lien
Jeux
|
Comments (0)
|
Write a comment
|
[FS] M.I.A Mission In Asia + Crackfix-SKIDROW ( 3 Liens )
Added 28/4/2011
Jeu PC; Jeu de tir | Producteur / Développeur: Interative Game Factory, Burut | Language: English | 2,42 Gb
Les tensions sont de plus en plus à la frontière du Slavia. Service Secret de Primorye mettre activités subversives à grande échelle face à Service fédéral de sécurité (FSS) de la Fédération de Russie. FSS reçoit des informations que l'un des agents de la FSS a été plus recrutés par les services secrets de Primorye. Au cours de tentative d'arrestation, les évasions et traître se cache sur le territoire de Slavia. Prenant en considération la décision du conflit armé entre les parties dans la région et la situation délicate, était d'éliminer la taupe silence. Agent spécial FSS va pour accomplir la mission, mais la situation prend tournure inattendue et notre caractère a personne à compter que sur lui-même.
Caractéristiques du jeu:
* Reconstitution très réaliste des mises à jour des conflits de guerre dans tous les aspects, y compris l'ingénierie, l'arme et ses environs
* Tactiquement-AI comportement des adversaires
* Histoire d'espionnage Tangled
* Différents types d'armes physiquement réaliste
* Intégré des mini-jeux: tir de sniper, tir à canon de char, le jeu d'équipe etc simulée
Configuration requise:
* Windows XP (SP1/Vista)
* Pentium 4 2,8 Gb Athlon XP / 2800 +
* RAM 1 Go
* 256 Mo Carte graphique
* DirectX 9.0C +
* HD 6 Go
Découpé avec winrar sur 3 fichiers (2x1 Gb + 420 Mb)
Lien 1
Lien 2
Lien 3
Category :
Jeux
|
Comments (0)
|
Write a comment
|